Masterclass - Crisis management and resiliency in the shadow of novel coronavirus
4 March 2020, 16:00 - 16:45
ITB Berlin, CityCube
Prior to the Minister Summit at ITB Berlin, the Resilience Council is running a Masterclass on enhancing destination resilience in light of the recent coronavirus outbreak. Join us at 16:00 on 4 March to learn from leading experts on topics ranging from:
An update on coronavirus and what is being done to prevent the spread.

An overview of resilience and how it is incorporated in crisis management planning.

Understanding risk and considering potential cascading risks and strengthening preparedness activities.

Using data to ensure sustainable resilience.

Real world examples of sustainable resiliency highlighting key actions will be shared to concretize important actions based on lessons learned.
Speakers for this session will be:
Dr Caroline Brown, european regional progamme director, WHO
Prof Lloyd Waller, executive director, Global Travel Resilience and Crisis Management Centre
Scott Hume, VP operations, Global Rescue
Carlos Cendra, chief marketing officer, Mabrian
Jeffrey Rutledge, president and CEO, AIG Travel
The session will be moderated by Anita Mendiratta, founder, Anita Mendiratta & Associates.
This is an essential event for destinations to attend, as well as resiliency planners from across the private and public sector.

If you have any questions regarding the Resilience Council please contact andy.hibberd@jacobsmediagroup.com or Laurie.Myers@jacobsmediagroup.com.

For more information on the Resilience Council, please visit: https://www.resiliencecouncil.com/resiliencecouncil/en/page/home

Add this session to your favourites on ITB's website here.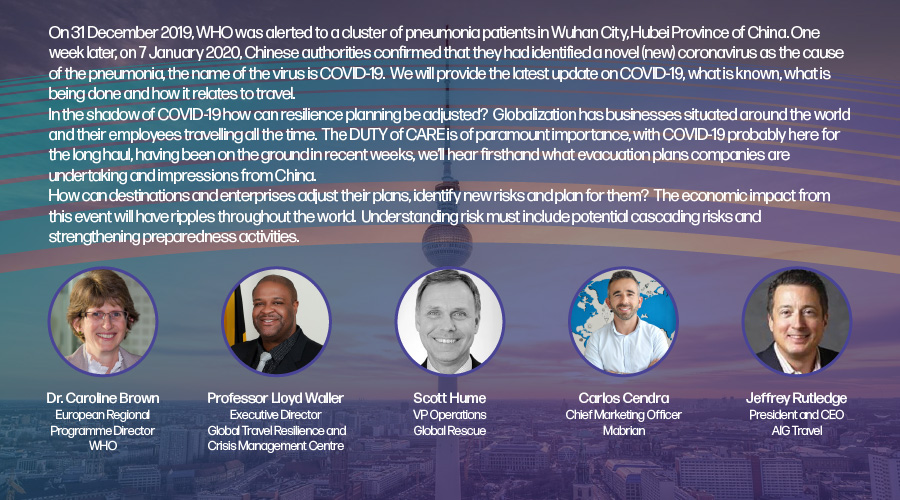 Full session agenda